All classes online. Select classes in person in the park. Contact us to schedule an introduction!
Learn T'ai Chi and Practice it Forever
Our Tai Chi class is a slow-moving meditation that encourages full body movement to increase flexibility and balance. Practice brings you back to the breath and keeps you grounded in the moment, which strengthens you in mind and body. Students work one-on-one with Sifu Scott or senior students in each class. The individual attention means you can progress at your own pace and ask as many questions as you want to. You can also get specific feedback on your technique. Therefore, your T'ai Chi will benefit and lead to positive results in your life. Our way of teaching allows you to learn T'ai Chi, whether you are a beginner or have some experience.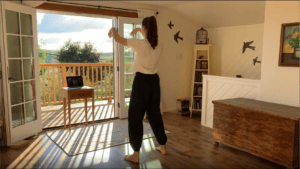 Fortify Your Body and Mind with Tai Chi
T'ai Chi offers its students what few other disciplines can: a sound mind and a strong body. An ancient art of moving meditation, it is built on a foundation of being mindful. So T'ai Chi teaches its students how to return to the breath and move with intention through practice and meditation. Like yoga, it builds strength and flexibility, increases mobility and coordination and calms your mind, but it's easier on your body. Transform your life by learning how to master your mind, body and breath.
T'ai Chi is medicine
Having a deeply healing effect on the body and mind, T'ai Chi is a powerful catalyst for change and it transforms the whole person. Practice stretches your body, increasing flexibility and allows you to be fully aware and involved with your movement, building up your balance and coordination. It also eases pain and anxiety and has positive lasting effects on a person's longevity. So with a calm mind, and a stable body, your quality of life will be improved dramatically.