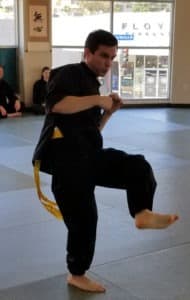 This time of year is pure magic. I'm not talking about the holidays. Those are over. I'm talking about the potential of the new year. Many of us use this time to look back on the previous year, see what we did well and what we could have done better, evaluate our goals then decide how to evolve.
In the past years I've talked about the importance of setting goals. This will play an important part of this article, but I want to start somewhere else. Many students have told me that they just don't know where to start with goals or resolutions; when they think of where the next year or 5 years could take them, they come up blank. Let's begin with a simple exercise to free us from that.
I recently saw a TED talk by Bill Burnett called "Designing Your Life" based on his book of the same name. I recommend either reading it or watching the talk. One of the fun ideas that stuck in my mind was a new way of brainstorming to come up with where we want to take our lives. He suggests thinking of 3 parallel lives in separate universes.
The first life is the one we are in now. Without changing careers or general life circumstances, ask yourself what kind of goals or changes you would like to take on over the next 5 years.
The second life is very similar to the one we are in now, but we have a different career. If you couldn't (or just didn't want to) do the job you have, what else would you do? Now with that different career in mind, what other changes would you make?
The third life is different. Think of the career or activity you would take on if you had absolutely no consideration for money or what people thought or said about you. My personal twist on this is go with whatever excites you most and even take your friends and family out of the equation. What would you do if you were completely untethered to your current life?
What you'll notice is that with the first scenario, you might come up with some reasonable goals, similar to things you've come up with in the past. With the second life, you'll see things from a slightly different angle and maybe come up with some other changes you'd like to make. The third scenario is completely different, so some of the things you come up with won't work in your current life, while others will. These are things that you have a hard time conceiving of while connected to your current circumstances, but you'll find you can actually pull off.
With these ideas, you'll want to create some goals that lead to action. I've often talked about SMART goals:
Specific
Measurable
Achievable
Reasonable
Timely
Basically, these goals take a vague idea or wish that sounds like "I want to get in shape" and turn it into something much more clear like, "I will run a marathon by the end of the year." Another helpful acronym I've heard lately is PATH (this description provided by Katherine Macey)
Process Oriented—focused on the process of making the goal happen
Action Based—what specific actions would I need to take to make the goal happen?
Template—which actions will I need to repeat and gain mastery over in order to achieve the goal?
Habit—how can I make this part of my routine and how often do the actions need to take place for the result to be realized?
This will help us turn the goal into even more clear, often daily actions. "I will run a marathon by the end of the year" turns into "every day I will run one mile, increased by one mile every week, until I can run 26.2 miles" (this isn't the perfect routine to train for a marathon, but you get the idea).
Try using this process this year to brainstorm ideas and conceive your goals. Tell people about them so that you get the best possible support and motivation. Most importantly, begin taking action immediately. Think of yourself as standing at the top of a hill, waiting to make your way down to the bottom. Take the first step and you've got momentum.